Interview: Junior Doctors' President on Europe's Burdened Health Care
Published online on Monday, 9th October 2023 on Univadis.com.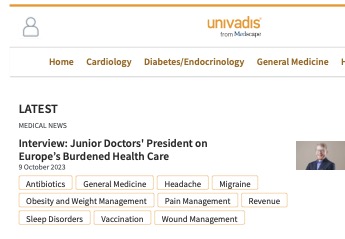 Junior doctors across Europe are at the frontline of the battle to cope with a healthcare infrastructure facing ever-increasing challenges. Univadis asked Mathias Körner , president of the European Junior Doctors Association (EJD), for his take on the current situation and future prospects.
The interview was published online on Monday, 9th October 2023. You may read the full interview HERE.