WHO Bucharest Declaration on health and care workforce
Adopted at the High-level Regional Meeting on Health and Care Workforce in Europe: time to act, 22–23 March 2023, Bucharest, Romania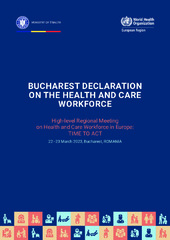 On March 22-23, representatives from 50 of the WHO European Region's 53 member states joined health workers, their unions and associations, and academics and experts, in adopting the Bucharest Declaration, which urged political action and commitment to protect, support, and invest in health and care workers across Europe and Central Asia.
EJD, as the only medical organisation present at the meeting, represented by Vice-President, Antanas Montvila and Medical Workforce Committee Chair, Alvaro Cerame, had the privilege to participate in lively discussions together with politicians, policy makers, academicians and healthcare experts tackling the pressing issue of medical workforce shortages across the European continent.
It was a high-level meeting of WHO-Europe focused on the health and care workforce. The attendees were the chief medical and nurse officers and senior ministerial staff of the 53 countries members of the organization. There were also other important stakeholders invited: research institutions, public health organizations, diplomats, professional organizations, among others.
The main outcome of the meeting was the Bucharest declaration which is a compromise by all the signing governments to act on different workforce issues: 1) Retain and recruitment of the workforce 2) Building supply 3) Optimizing performance 4) Planning 5) Investment. It is an important step forward in contrast to the years before the pandemic where the health workforce was not a policy priority. The full-text can be read below, by following the link.
EJD participated in a panel discussion (there were 5 panels) and we facilitated and participated in a technical session about the retention of junior professionals. The feedback we received from the attendees was very good and they insisted on the fact that they wanted to count on our perspectives in following events and that we will be invited in the future.