PRESS RELEASE: Spring General Assembly of the European Association of Young Doctors takes place in Riga, Latvia
This year, Riga will host the Spring General Assembly of the European Junior Doctors (EJD), organized by the European Junior Doctors (EJD) and the Latvian Junior Doctors Association (LJDA).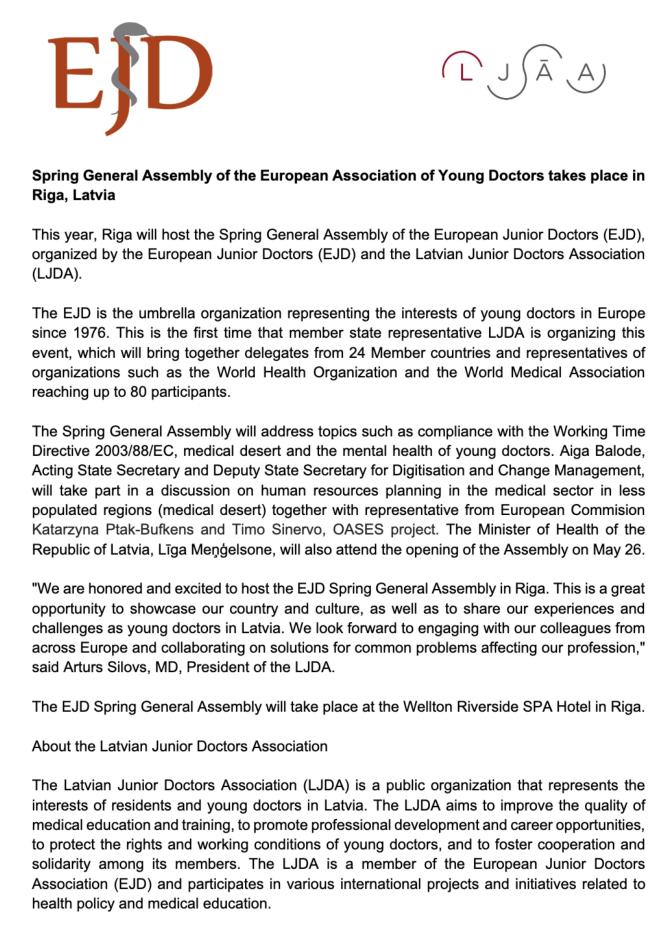 The EJD is the umbrella organization representing the interests of young doctors in Europe since 1976. This is the first time that member state representative LJDA is organizing this event, which will bring together delegates from 24 Member countries and representatives of organizations such as the World Health Organization and the World Medical Association reaching up to 80 participants.
The Spring General Assembly will address topics such as compliance with the Working Time Directive 2003/88/EC, medical desert and the mental health of young doctors. Aiga Balode, Acting State Secretary and Deputy State Secretary for Digitisation and Change Management, will take part in a discussion on human resources planning in the medical sector in less populated regions (medical desert) together with representative from European Commission Katarzyna Ptak-Bufkens and Timo Sinervo, OASES project. The Minister of Health of the Republic of Latvia, Līga Meņģelsone, will also attend the opening of the Assembly on May 26.
"We are honored and excited to host the EJD Spring General Assembly in Riga. This is a great opportunity to showcase our country and culture, as well as to share our experiences and challenges as young doctors in Latvia. We look forward to engaging with our colleagues from across Europe and collaborating on solutions for common problems affecting our profession," said Arturs Silovs, MD, President of the LJDA.

The EJD Spring General Assembly will take place at the Wellton Riverside SPA Hotel in Riga.
About the Latvian Junior Doctors Association

The Latvian Junior Doctors Association (LJDA) is a public organization that represents the interests of residents and young doctors in Latvia. The LJDA aims to improve the quality of medical education and training, to promote professional development and career opportunities, to protect the rights and working conditions of young doctors, and to foster cooperation and solidarity among its members. The LJDA is a member of the European Junior Doctors Association (EJD) and participates in various international projects and initiatives related to health policy and medical education.